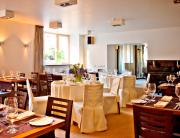 "La Boheme" - restaurant
6-course signature menu for 32,00 Ls per person!
Optional accompanying wine menu for 20,00 Ls per person!
And after the dinner please enjoy our selection of French Cognacs, Armagnacs, Calvados and Premium Cuban Cigars.
We invite You to the next La Boheme gourmet dinners on following dates: 31.01, 28.02, 27.03 and 24.04!
Please reserve Your table one week for planed date in advance by calling us or drop an e-mail to: [email protected].
We want to let You feel the Sensations, Memories, Flavors, Creations, Freedom & Tendencies!