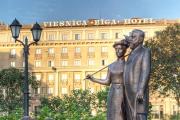 "Riga" - Hotel
Latvian traditional Christmas Day meal
Salad with smoked chicken, quail egg and walnuts
or
Salmon cream soup with shrimp cream and chive
Roast cod fillet in bacon with cauliflower mash and green lentil
or
Grilled pork ribs with red beetroot chutney, fried potatoes and honeyed carrots
Christmas cake with homemade rum-raisin ice cream
Mineral water
Price 12.00 Eur/ 8.40 Ls per person
Offer valid from 01.12.09 till 28.12.09
Table reservation +371 67044239 or [email protected]
Unique New Year 's Eve celebration Happy Birth-jazz Mr. New Year!
From 20:30 pm gathering and appetizer served in Chicago gangster's style
At 21:00 pm the host Andris Grinbergs starts the party with some funny stories about manners of Great depression times at USA
During the party you will be offered:
Performances of live music duo
Tasty dinner
To take part in musical improvisations on tunes from Hollywood movie oldies
To take your photos as jazz musician or mafia boss. The pictures will be received to you down the party ends
As any did at times when everyone had a lot of time you could write vintage New Year Greeting cards and hotel Riga will send them to home address of your relatives, friends or yourself if you want....
At midnight we altogether shall ring in the New Year expecting the champagne will wash away all nowadays depressions
On the first minutes of the 2010 you can watch fireworks at Old Town and rejoin the party. It will go on until 2:00 am
Ladies are welcome to arrive the party looking like Marilyn Monroe. Every Marilyn will be presented especially...
Package price:
for 1 person in single room - 120 EUR
for 2 persons in double/ twin room - 206 EUR
for 3 persons in triple room - 306 EUR
The total package price depends on the number of nights you would like to stay in hotel. Extra night price:
in single room - 49 EUR
in double/ twin room - 53 EUR
in triple room - 78 EUR
Table reservations and more information [email protected] or +371 67044222
www.hotelriga.lv