August

8

9

10

11

12

13

14

15

16

17

18

19

20

21

22

23

24

25

26

27

28

29

30

31

September

1

2

3

4

5

6

7

8

9

10

11

12

13

14

15

16

17

18
Guests - 79
Registered members - 0


Latvian National Theatre

Print verssion

Attention, this is national scale cultural monument!!!
The visitors are pleased to act carefully and with respect to cultural monument. For intentional or accidental damage can be applied administrative liability.
Contacts
| | |
| --- | --- |
| | +371 67006300 |
Description
The theatre building was constructed in 1902 on the basis of a draft designed by architect Augusts Reinbergs. Initially it housed the Second Riga City Theatre. The National Theatre was opened on November 30, 1919, and its creative program was authored by writer Jānis Akuraters. The artistic troupe was made up largely of performing artists from the Working Theatre, which had been founded on February 23, 1919. In 1940, when Latvia was occupied by the Soviet Union, the name of the theatre was changed to the Drama theatre. It regained its original name only during the so-called Third Awakening – on November 17, 1988, one day before the 70th anniversary of the proclamation of the independent Latvian state. It was on the stage of the National Theatre that country's independence was proclaimed in 1918.The National Theatre has two stages – the main Stage with 780 seats and its Actor's Hall Stage, where the performing area can be configured in various ways. The Actor's Hall seats up to 100 people.The Latvian National Theatre is a repertory theatre, and as the national theatre of Latvia it tends to the development of original Latvian playwriting.
Nearest in category(-ies):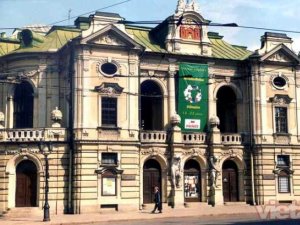 If You are registered User You can upload Your picture for this object if You have some.
Register
Location on Map
Weather in Centra apbuve